Mgr. Peter Lančarič, PhD.
mail@peterlancaric.com
Peter Lančarič (1989) is a photographer whose work includes, in addition to documentary photography, also conceptual and intermedial projects and video. He mainly addresses topics such as intimacy and identity, but he also works with socially engaged photography. He is a assistent professor at the Department of Artistic Communication, FMK UCM in Trnava, Slovakia. He participates in teaching with doc. MgA. Jozef Sedlák and Mgr. Art. Petra Cepková, ArtD. at the Atelier of communication in the medium of photography and in teaching of the subject Journalistic photography. In the research part of his study, he deals with the influence of digitalization on the medium of photography and with shifting nature of a portrait as an artistic form. He actively works in the third sector and he is a co-founder of the cultural and artistic centre KUBIK NÁPADOV in Trnava. He is also a co-founder of The Shop Window Gallery which is a public art space in the old shop widows located on the main city strip the city of Trnava, Slovakia.  He systematically maps Slovak DIY culture.
Solo exhibitions:
2018 UNTIL ___ DO US PART – Martina Chudá + Peter Lančarič, Nitra Gallery, Gallery of Youth, curated by Peter Molari, Nitra (SK)
2018 DRŽME SPOLU – Jindřich Štreit & Peter Lančarič, serie of exhibitions:
Gallery of the West terrace, Bratislava Castle, Bratislava (SK)
Gallery of the National Slovak Radio, Bratislava (SK)
2018 MAPPING OF THE DIFFERENT CULTURE – Subway crossing DIY Gallery, public space, Poprad (SK)
2017 SOMETHING ELSE, OR EVERYTHING… – Theatre of Ján Palárik, curated by Klára Kubíková, Trnava (SK)
2017 THE EXPOSITION – Galéria Výklad, gallery in public space focused on site-specific art, curated by Peter Molari, Trnava (SK)
2016 YOUNG SCORDAK – Old news-stand, public space, KZN Skatepark, Galéria Búdka, curated by Tomáš Agat Blonski, Spišská Nová Ves (SK)
2015 THE EXHIBITION IN THE CRAPPER – Ilegal exhibition, CA, Trnava (SK)
2015 BRIDGES OF SMALL CITY – Open stairway, public space, curated by Peter Molari, Družba, Trnava (SK)
2014 THEY CREATE THE WORLD – City Hall, curated by Jozef Sedlák, Trnava (SK)
2013 THE STAIRS ON A STREET CORNER – Antique Bookstore, curated by Petra Cepková, Trnava (SK)
Selected collective exhibitions:
2018
WORLD BIENNIAL OF STUDENT PHOTOGRAPHY – Museum of Contemporary Arts of Vojvodina,  curated by Ivana Tomanović, Novi Sad (SRB)
CHANIA INTERNATIONAL PHOTO FESTIVAL – Center of the Mediterranean Architecture, Chania, (GR)
STREET PHOTOGRAPHY 2018 – Blank Wall Gallery, curated by Markos Dolopikos,  Athens (GR)
WHERE MAN AND WATER SPRING TOGETHER – serie of exhibitions, curated by Klára Kubíková, Vyšné Ružbachy (SK)
2017
OBEC, KTORÁ NESPÍ –  Theatre of Ján Palárik, curated by Petra Cepková, Trnava (SK)
NIŽNÉ RUŽBACHY – Building of Old school, Nižné Ružbachy, (SK)
2016
REFLEXY OF UNSEEN – exhibition in house for mentally ill, Domovina, Hodkovce, (SK)
ARCHEOLOGY OF TIME- serie of exhibitions, Brehov, Rad (SK)
LES 400 VUES:
Lycée Français d'Irlande, Dublin (IR)
Université Sorbonne Nouvelle – Paris (FR)
Université Paris Descartes – Paris (FR)
FIAP Jean Monnet – Paris (FR)
Square Louis Lumière – Paris (FR)
L'actualité du centre d'animation Reuilly – Paris (FR)
Alliance Française de Dublin, Dublin (IR)
VIEWED AND LISTENED – Galéria Ľudovíta Hlaváča, FMK, Trnava (SK)
FESTIVAL OF DIFFERENT CULTURE – Tabačka Kulturfabrik, Košice (SK)
2015
WORLD BIENNIAL OF STUDENT PHOTOGRAPHY – Academy of arts, Novi Sad (SRB)
ARCHITECTURE OF BODY – Theatre of Ján Palárik, Trnava (SK)
INNER WORLDS – University library, Ružomberok (SK)
2014
INNER WORLDS – House of photography, Liptovský Mikuláš (SK)
URBAN ART SESSION – Old Market, Bratislava (SK)
HYBE – serie of exhibitions, Hybe (SK)
2013
SOCIOLOGIC PORTRAIT- Gallery of Ľudovíta Hlaváč, FMK, Trnava (SK)
Co-author of publications:
KU5IK, Five years of community center in Trnava – Kočiš, Lančarič, Šima, 2017, ISBN 978-80-972933-0-7
The Shop Window Gallery – Lančarič, Molari, 2018, ISBN ISBN 978–80–972933–1–4

In print publications:
2017
"UHSKÝ PEREVAL" book by Monika and Ľubo Stacho
"SHORT NOTE TO THE SELF-PORTRAIT", Inspire : magazine with difference, n. 79,
FROM SKATEBOARDING TO THE PHOTOGRAPHY,  Sóda 1/2017
2016
"THE ARCHEOLOGY OF TIME" book by Jozef Sedlák, Tomáš Lesnák
2015
"THE WORLD BIENNIEAL OF STUDENT PHOTOGRAPHY 2015", catalogue by Siniša Bokan
"STUDENT PROFILE" European Journal of Media, Art  & Photography, 3/1
"THE STAIRS ON A STREET CORNER AFTER 3 YEARS", Inspire : magazine with difference, n. 76
2016
"INNER WOLRDS", publication by  Lucia Benická, Jozef Sedlák, Petra Cepková
"MUUZA 2014" by Slavomír Magál and collective
2013
"MUUZA 2013" by Tibor Huzsár, Slavomír Magál, Jozef Sedlák
Research Stay:
2018 INSTITUTE OF COMMUNICATION STUDIES AND JOURNALISM, Charles University, Prague. (CZ)
Artistic Residences:
2015 LES 400 VUES – international photographic residence focused on urban space and identity, Paris. (FR)
Projects:
since 2015 GALÉRIA VÝKLAD –  Public space gallery focused on site-specific art – co-founder
since 2012 KUBIK NÁPADOV – Cultural & Community Hub in Trnava – co-founder
since 2009 BRONCO n.o. – Organizing of cultural events – board member
Independent courses:
2014 PERSONAL BRAND MARATHON – seminar about creating personal brand and social influence , Bucharest. (RO)
2013 RESTART – seminar about communication  with using new media, Milan. (ITA)
2011 ARTMEDIALE / Summer School – current trends in film and media production. (SK)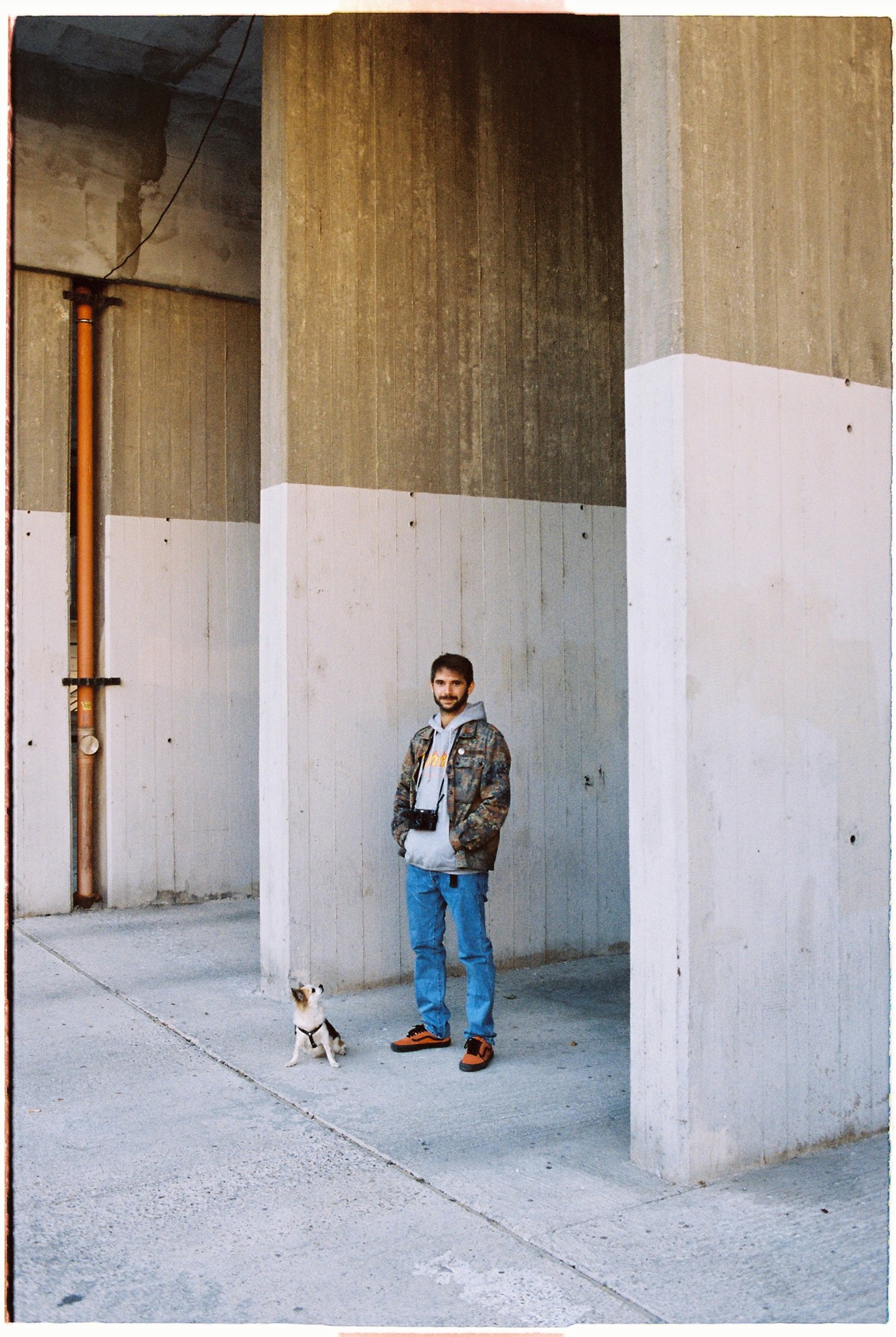 3.1.2020 01:21